All sources come from TVTropes.com
Adults Are Useless: Pretty much.
Amazon Brigade: The four main characters (including Emim and Zachary).
Animesque: It may not look anime-ish, but the expressions are.
Annoying Younger Sibling : Mimi, especially to her older sister, Skylar when she has nothing better to do.
Baby Of The Bunch: Mimi is the youngest in the cast.
Oriana will go out of her way to brutally kill anyone who eats her Oreos.
Same goes with Mimi whenever somebody eats her candy, as Skylar learned this the hard way.
Black Bead Eyes: The chibi versions of the characters have this.
Blush Sticker: All of the characters have this.
Boyish Short Hair: The four main characters have this:
Oriana and Skylar have short hair with side-swept bangs that resemble an emo cut.
Kagan has short, scruffy short hair which is similar to that of Gogo Tomago's.
Mimi has short hair which resembles a bob cut.
Kagan.
Skylar unfortunately has to deal with her younger sister, Mimi's bullshit on a daily basis.
Skylar's bunny slippers have this.
Mimi often smiles like this as well.
Cloudcuckoolander: Oriana.
Comedically Cross-Eyed: Oriana does this because she thinks it's funny.
Cool Big Sis: At some occasions, Skylar can be overprotective with Mimi.
Kagan when she's wearing her facemask.
Zachary's masquerade mask.
Creepy Monotone: Skylar's voice.
Cute, but Cacophonic: The characters, especially Oriana have a tendency to screech demonically.
Cute Little Fangs: Everyone has at least one fang on the left side of their teeth.
Mimi's voice.
Kagan's voice, but slightly less high-pitched.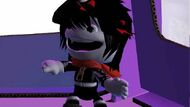 ​​​​​​Oriana used to be a Mary Sue .
Back in 2014, way before Emim was created, there was a prototype version of her named 'Mima'.
Skylar used to not be depressed.
Skylar and Mimi had slightly different appearances when they were first created. From having stickfigures on their shirts to having only one black glove instead of fingerless gloves.
Kagan used to have the same hairstyle as Oriana and Skylar, but she was slightly altered due to her looking too similar to Miss Oro herself. Giving her a paper crown and short scruffy light-brown hair.
Oriana was originally going to be named "Skylar", but this was scrapped due to her being named after her creator.
Elective Mute: Emim is able to talk, but chooses not to (for obvious reasons).
One of Oriana's nicknames, 'Carafa' means stupid. Although she doesn't really care that much.
Skylar was once nicknamed 'Disappointment'. Like Oriana, she doesn't care much about it.
Emotionless Girl:
Skylar.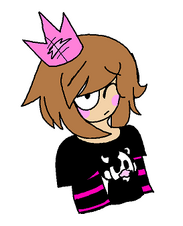 Everyone Hates Mimes: "WHY DON'T YOU EVER SPEAK?!?!!!" said by a random person to Emim.
Eyes Always Shut : Kagan, although she does open her eyes on certain occasions. 
Eyelid Pull Taunt: Mimi often does this. 
Fingerless Gloves: Skylar and Mimi both have these types of gloves.
Fun With Acronyms: If you tried making an acronym out of Kagan, Mimi, and Skylar's names, you would get KMS. Standing for 'kill myself'.
Girly Girl With A Tomboy Streak: The main cast.
Genki Girl: Mimi most of the time.
Hair Decorations: All of the characters have at least one.
Hand-Hiding Sleeves: Uni wears a long-sleeved shirt that fully covers her hands.
Heavy Sleeper: Skylar. Not even "wakey wakey eggs 'n bakey" can wake her up.
Lazy Bum: Skylar.
Lethally Stupid: Oriana accidentally got Skylar killed, all because she wanted to play a game of the floor is lava.
Mary Sue: Roku, though she is a character created to mock the stereotypical Mary Sue.
No Antagonist: Mostly.
Non Sequitur: Oriana has six cool sayings.
Not A Morning Person: Skylar.
Perpetual Frowner: Skylar really doesn't smile that much.
Series Mascot: Oriana.
Sibling Team: Skylar and Mimi.
Sibling Yin-Yang: Personality-wise, Skylar and Mimi are complete opposites.
Stage Magician: Zachary.
Sweet Tooth: Again, Mimi. No wonder she's so hyperactive.
Tagalong Kid: Mimi is often seen with her older sister, Skylar.
Talking To Himself: A majority, if not, all of the characters are voiced by the same person.
Trademark Favorite Food: Oriana likes Oreos, Kagan likes strawberry milk, Skylar likes ramen, and Mimi likes candy.
The Ditz: Oriana.
The One Guy: So far, Zachary is the only male character.
The Stoic: Skylar is often portrayed with having a nonchalant expression, as well as speaking in a slightly monotonous voice.
When She Smiles : Skylar isn't used to smiling, but when she does, her younger sister goes apeshit.
Wingding Eyes: Considering the creator watched a bit too much anime.
World Of Weirdness: The Land Of Carafu.
Youthful Freckles: Again, Oriana.